A14 Bar Hill NMU Bridge Installed by VBSC during closure
You are here
A14 Bar Hill NMU Bridge Installed by VBSC during closure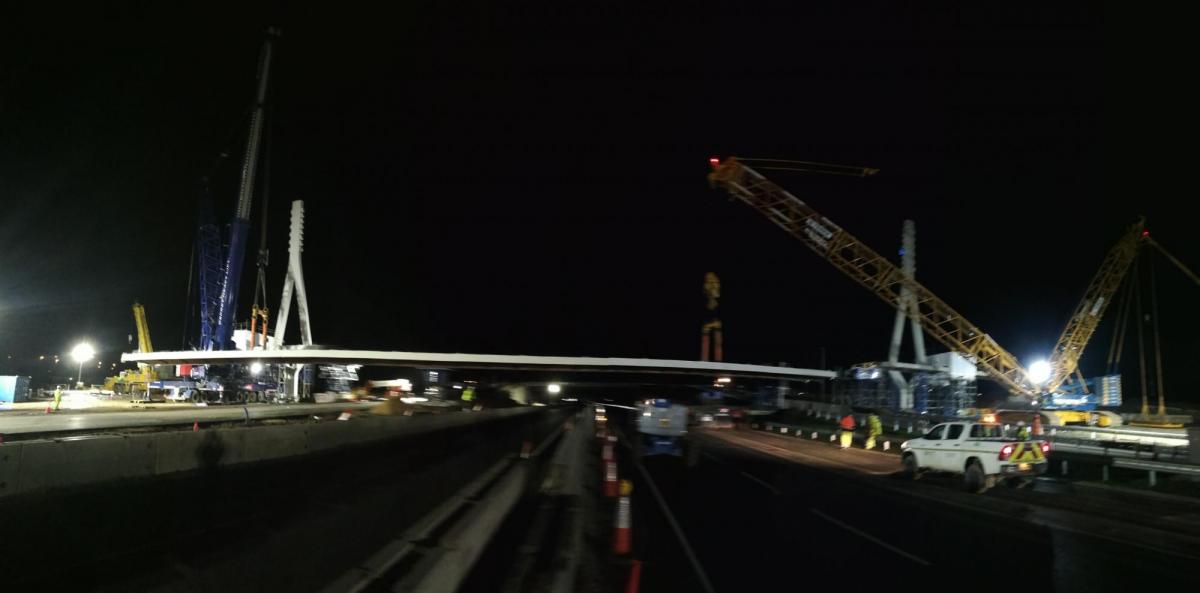 Cambridge, United Kingdom - Last Friday the mid span of BN22 Bar Hill NMU Bridge was installed above the A14 within the strict time and site constraints.
Since the end of October Victor Buyck has been assembling and welding the mid span of the Bar Hill NMU Bridge at the offsite terrain next to the A14. All steelwork was ready to be installed early December. The final mid span steel has a length of 60m, a width of 6m and a weight of 180T.
Although the weather forecast was not on our side, Victor Buyck and Sarens started mobilizing all equipment in the week of December 9th. The equipment for this operation consisted of a CC2800 equipped with 180T superlift, an LTM1800 equipped with 160T superlift and 3 sets of 5-axle SPMT's to support the deck at 2 locations. The lift was performed by Sarens.
On Friday 13 December all equipment was mobilized. The weekend only provided limited acceptable weather windows to execute the lift. The best window would be Saturday morning from 0am to 3am. The A14 was closed Friday at 9pm, the haulage route was prepared (including a ramp to cross from Eastbound to Westbound). By 10pm the deck could be transported. After 2 hours the configuration reached the BN22 bridge location, where both cranes were rigged and ready to lift. The 2 cranes lifted the mid span in tandem onto the trestle towers and in its final position above the A14. The cranes could be released at 4am.
This was the final of four heavy operations for VBSC's A14 job. All operations were executed well in time according to the closure programme, a brilliant effort of Sarens and Victor Buyck. Due to its erection methodology using SPMT's Victor Buyck could avoid multiple closures of the A14 in favor of its client A14IDT and Highways England.
A great appreciation for all people involved, and a well deserved Christmas break!  After the New Year our site team will weld the deck joints and install and streess the cables.