Fabrication of Bath Quays Bridge completed in Victor Buyck workshop
You are here
Fabrication of Bath Quays Bridge completed in Victor Buyck workshop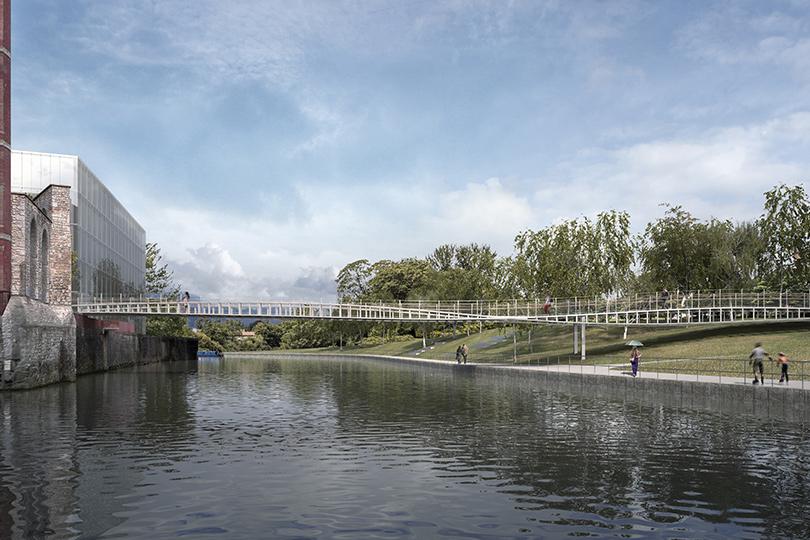 Eeklo, Belgium / Bath, United Kingdom - The fabrication process of the Bath Quays Bridge has been completed in the workshop of Victor Buyck at Eeklo.
Victor Buyck has been fabricating the new Bath Quays Bridge in recent months. Due to the spectacular design of the bridge a number of atypical details had to be designed and the project team had to overcome some very specific challenges.
The bridge with a complex geometry consists of undulating main beams with large vertical stiffeners in between, which makes them work as a Vierendeel truss. The main girders are connected to a deck of longitudinal and transverse T-stiffeners. The bridge has been completely prefabricated in 2 big sections in the workshop.
After the completion of the welding the bridge sections have been divided into 2 transport parts each, so 4 parts in total. The transport parts are now painted at the in-house paint shop of Victor Buyck. You can find some footage of the pieces in the paint shop below.
Bath Quays Bridge will provide a new crossing point over the River Avon for pedestrians and cyclists. The bridge will connect the development sites of Bath Quays North and South and enhance the connectivity between the riverside and Bath city centre. Victor Buyck is responsible for the fabrication, transport and erection on site of the complete superstructure (including parapets, timber deck, bearings, ...). The client is the Council of Bath & North East Somerset. The design is done by Marc Mimram Ingénerie and Webb Yates Engineers.