NAV1 Gull Wing Bridge installed in Lowestoft
You are here
NAV1 Gull Wing Bridge installed in Lowestoft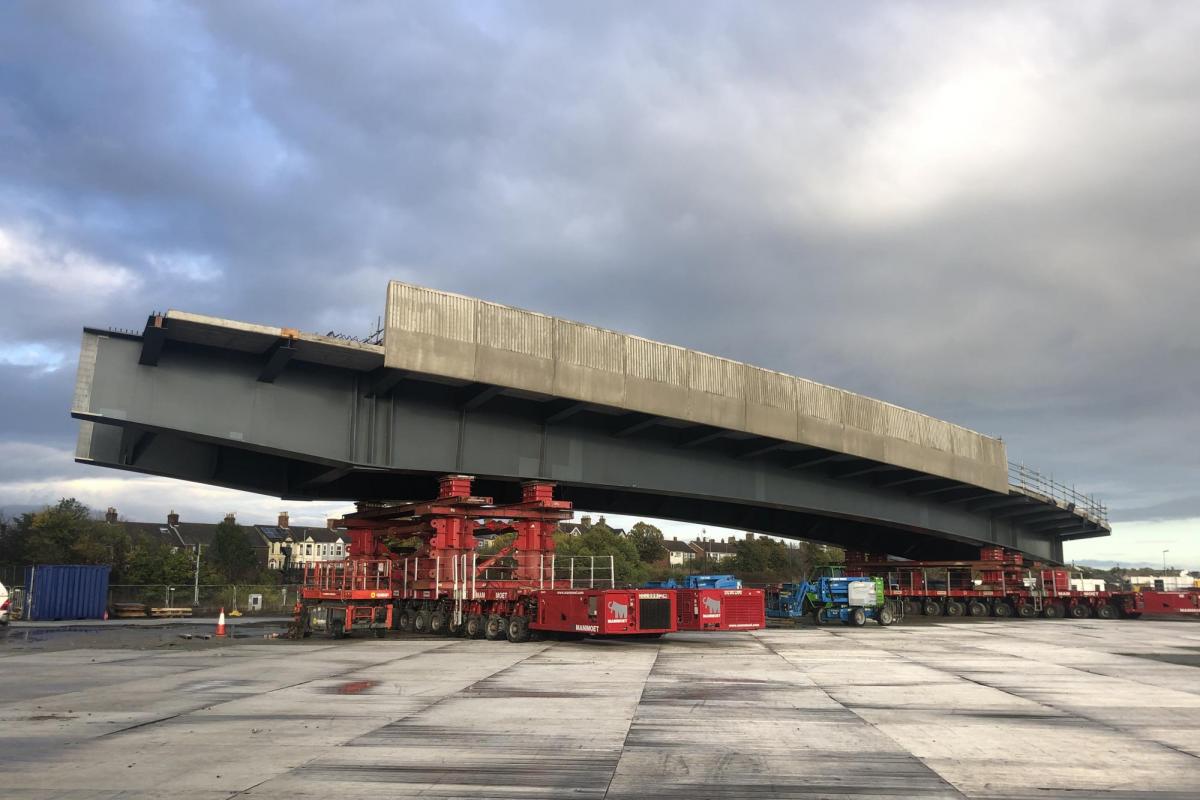 Lowestoft, United Kingdom - Last weekend we reached a milestone on the Gull Wing project in Lowestoft. The first section of the North Approach Viaduct (NAV) was driven to its final position on the abutment and pier using SPMTs (Self Propelled Modular Transporters).
NAV1 was manufactured in our workshops in Eeklo and Wondelgem and transported to Lowestoft in February. Since then, the bridge section has been stored on North Quay where Farrans Construction, the main contractor, has in the meantime been busy with the concrete works for the road surface and the railings. As a result, the weight of this 55m long bridge section increased from 300T to 1400T.
In the run-up to the installation weekend, we jacked up the bridge from its temporary supports and retouched the paintwork on these temporary support points. The bridge section was then rotated half a turn and placed at the fence until the railway track blockage started. As the bridge crosses the tracks of the East Suffolk Railway, the tracks were completely protected and filled out to allow for transport.
The installation operation, which was carried out together with Mammoet, started on Saturday morning. We drove the bridge section slowly but steadily towards the piers until it was positioned above the final support points. Some time later, the bridge could be jacked up at the bearing points where it was finally aligned. We look back with satisfaction on this successful operation and would like to thank all parties involved for the cooperation!
In the spring of 2023, the remaining parts of the Approach Viaduct will be transported to Lowestoft and then lifted into place by a crane. The Gull Wing Bridge will be the third crossing over Lake Lothing in Lowestoft and will be a crucial element in relieving traffic on the existing bridges. In addition, with its spectacular design, the bridge is a new landmark for the city.
---
Victor Buyck Steel Construction fabricates and installs the structural steelwork of the bridge bridges and bascule bridge of the Gull Wing Bridge, over Lake Lothing. The main contractor is Farrans Construction, the client is Suffolk County Council.
Read also: https://www.farrans.com/first-section-of-gull-wing-bridge-in-lowestoft-successfully-installed/