Victor Buyck Steel Construction Inspires Future Civil Engineers: A Journey Through the UK
You are here
Victor Buyck Steel Construction Inspires Future Civil Engineers: A Journey Through the UK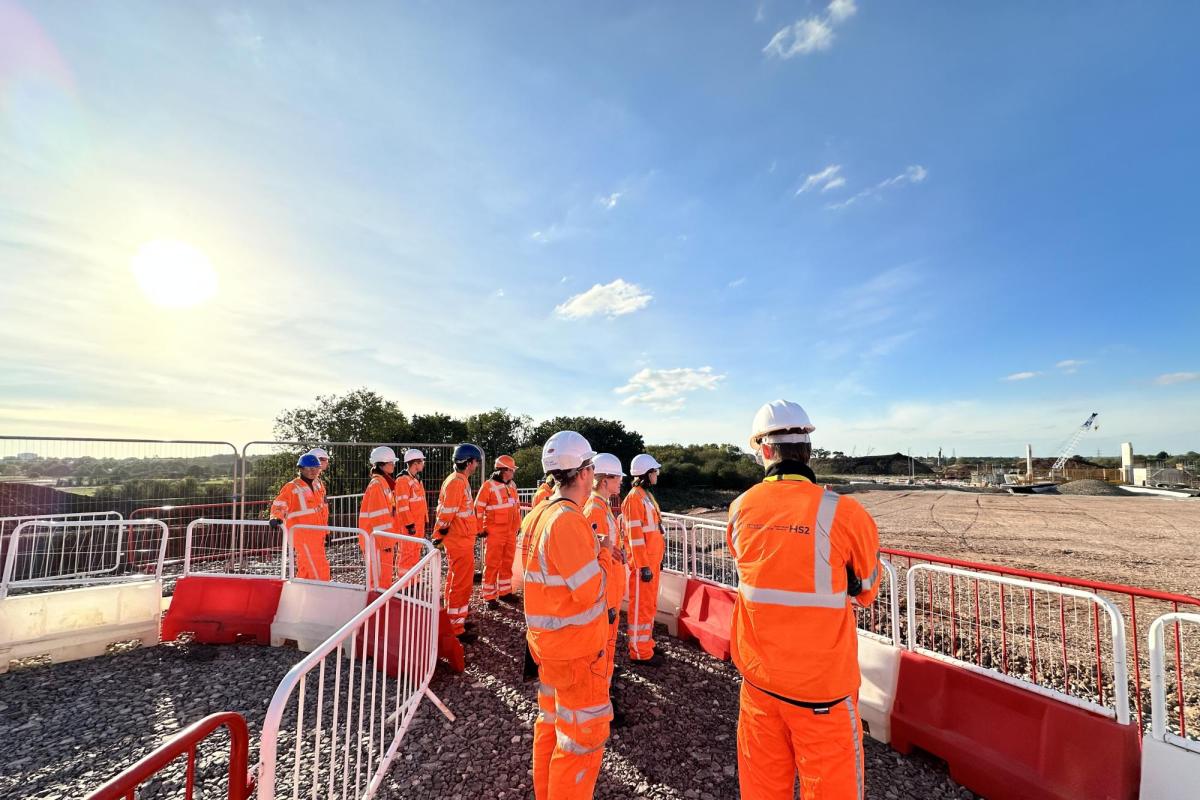 Birmingham/London, U.K. - It is imperative for the next generation of civil engineers to not only learn from textbooks but also gain practical insight into the construction projects that shape our future. Victor Buyck Steel Construction recently guided a group of 40 civil engineering students from the University of Ghent in Belgium on a journey through the United Kingdom.
This excursion aimed to introduce the students to the colossal High-Speed Two (HS2) project in Birmingham and the impressive sustainability-driven transformation happening at Canary Wharf in London.
High-Speed Two (HS2) is one of the most ambitious and impactful infrastructure projects the UK has ever undertaken. This high-speed railway will connect London to Birmingham and aims to reduce travel times, increase rail capacity, and boost economic growth across the country. Welcomed by Balfour Beatty Vinci, the students witnessed firsthand some of the construction sites of HS2 where VBSC will later install the steel bridges. The students were able to observe the intricate design, planning, and execution involved in creating the bridges and viaducts. They learned about the advantages of steel, such as its strength, durability, and eco-friendly properties, and how it is a sustainable choice for modern infrastructure.
Following their awe-inspiring experience in Birmingham, the students embarked on a journey to London's iconic Canary Wharf. This thriving financial district has long been a symbol of modernity and urban development. However, in recent years, the area has undergone a significant transformation to become a beacon of sustainability.
Canary Wharf is evolving from a mainly financial hub to a place where people want to live, work and have fun. It's now a hub for innovative and environmentally conscious architecture. The students were introduced to various green building practices, energy-efficient designs, and sustainable materials used in the construction of new structures. The students had the opportunity to understand the importance of sustainable urban development and how innovative construction methods and materials are reducing the environmental impact of major urban centers. The efforts made by Canary Wharf Group in terms of reducing its carbon emissions on its current projects were recognized as being far beyond what was being done generally. The students were also shown how Canary Wharf is transforming, with more green areas and more leisure activities.
We would like to expressly thank Canary Wharf Group for their hospitality and the valuable help in guiding the students through the Estate and showing the Wood Wharf and North Quay developments, where they could again witness firsthand the amount of preparation that is required in terms of crane strategy, programme, logistics etc. to develop these projects in the most sustainable way possible.