Vote online for The Northern Spire to win the Belgian steel bridge awards 2020
You are here
Vote online for The Northern Spire to win the Belgian steel bridge awards 2020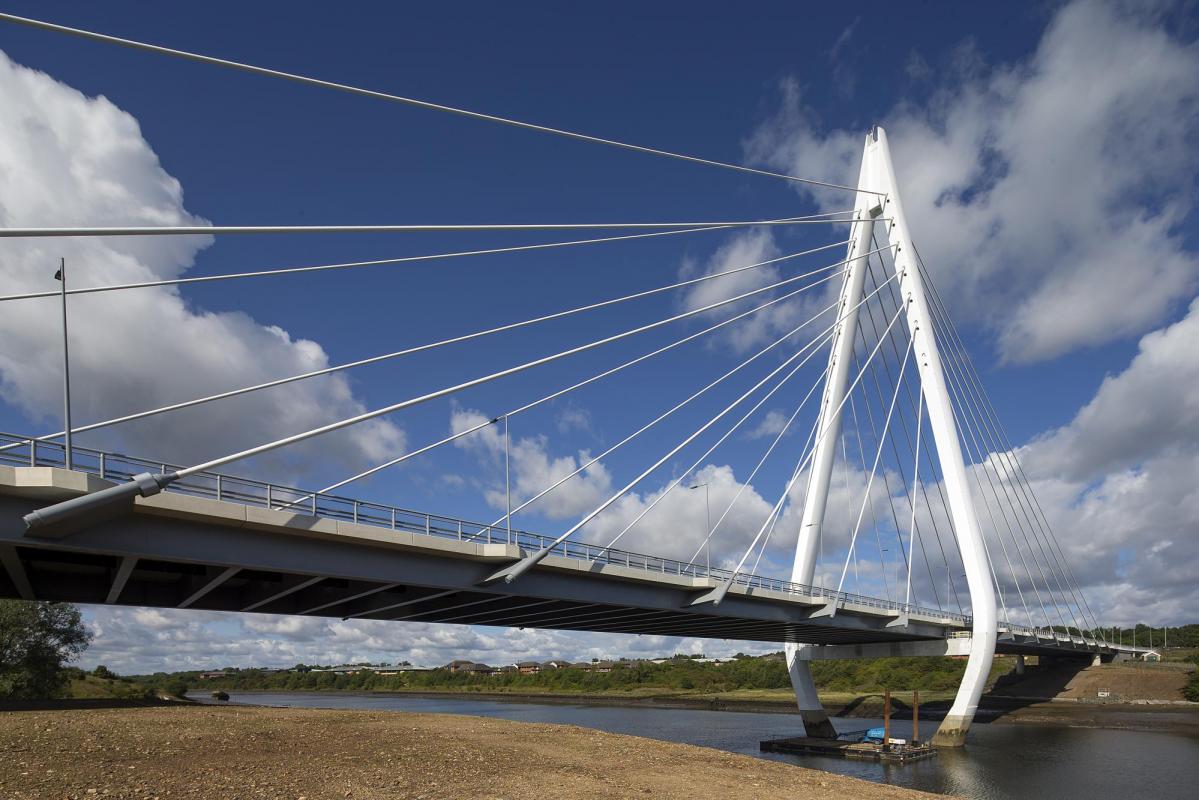 Five Victor Buyck projects are nominated to participate in the bridge steel construction competition 2020. The steel construction competition is organized by Infosteel annually alternately in Belgium and Luxembourg and is due for its 20th edition. Participation in the 2020 Bridge Steel Construction Competition was open for steel bridge projects built in Belgium and abroad between 2017 and 2019.
One of the five nominated projects is The Northern Spire, the official name of the bridge formally known as New Wear Crossing, is a stayed cable bridge with a span of 360m and a height of 100m, by which it just exceeds the Big Ben in London (96m). The deck is assembled in two phases at the assembly platform near the southern abutment (each phase having a length of 200m) and launched into position. The first launch is performed before the pylon is erected. The white, impressive, A-shaped pylon is  fabricated in our workshop in Ghent and transported to site in one piece over the sea. The pylon is installed horizontally and subsequently gets rotated around a hinge to be put in correct, vertical position
The Northern Spire has won several awards in the U.K., such as the prestigious "ICE 200 Special Project Award" and the "Considerate Constructors Scheme National Site Award" and is now also nominated in the category "international projects" of the Infosteel bridge steel construction competition.
For the first time, the winner is chosen by means of an online vote. All voters can select 3 bridges, and with 5 nominated Victor Buyck projects, there's a lot of choice!
The other nominated projects in the category "international projects" are.
Jack Williams Bridge in Wales (UK)
Schuttebusbrug Zwolle (NL)
River Garnock Viaduct Dalry in Scotland (UK)
Viaduc de Guerville (F)
By clicking the link below, you can vote for our favorite: the Northern Spire Bridge in Sunderland! 
https://bit.ly/3hDHAl
The laureates will be announced on 13th of October 2020.